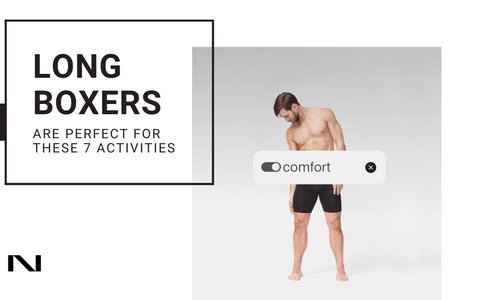 Long Boxers Are Perfect for These 7 Specific Activities
When you're searching for the perfect men's underwear, you want to choose a style that works in many different situations. Most men don't want their underwear bunching up when they sit or walk, especially if they're wearing tighter pants. They also want coverage and support, not to mention sweat protection and comfort.


If this sounds like what you're seeking, you're probably in the market for long boxers, otherwise known as boxer briefs. Here, we'll talk about what differentiates long boxers from other types of underwear and mention a few situations when these underwear are really going to come in handy.



What Are Long Boxers?
Lots of men choose long boxers over briefs or boxers, two other common styles of men's underwear. Men's underwear styles are differentiated based on two factors: leg length, and inseam length, or how much fabric there is between the crotch and the end of the leg in the underwear.

Long boxers, otherwise known as boxer briefs, provide the best coverage and support for all types of bodies, especially if you have love handles or other areas that you may want to disguise. Their length also makes sure that you won't chafe if you sweat and then walk or run for long periods.

What's more, long boxers are the best choice in balancing athletic activity: you're supported, but you're still getting enough air flow to keep you from getting sweaty or sticky.

Here are a few of the scenarios where long boxers really come through for you.

Activity #1: Making the Big Sales Pitch at the Office
If you're anything like us, big presentations make you slightly nervous, which in turn, elevates your body temperature and makes you sweat.

Instead of turning into a swampy mess like you might in boxers, long boxers keep you cool, and their moisture-wicking fabric helps you to stay dry.

Activity #2: Getting in a Post-Work Workout
One of the best features of long boxers is that they transition well from your work day to your after-work athletic activities. Specifically, these boxer briefs look good under workwear and athletic clothes because they won't bunch up like boxers do.

What's more, they'll wick sweat so you won't feel damp or sticky after you work up a sweat at the gym.

Activity #3: Strolling Around the City
The length of both boxers and briefs isn't quite right for walking around for long periods. Boxers make many men feel too free, while briefs can chafe after long bouts of walking.

Long boxers offer the perfect balance, without riding or bunching up as you move.

Activity #4: Sitting at Your Work Desk for Long Periods
If you have to sit at your desk, it can be annoying to wear boxers that bunch up beneath your pants. Not only is this uncomfortable but it also doesn't look great no matter what you're wearing.

The tight-fitting fabric on long boxers ensures that you can sit for extended stretches without your underwear bunching up on you.

Activity #5: Hanging Out on Your Porch on Warm Summer Days
One of the worst feelings is getting overly hot or sweaty when you're hanging out with friends.

If you want to spend time outdoors without your underwear getting overly hot, then long boxers are your best choice for hot days outside.

Activity #6: Accenting Your Physical Attributes
Whether you want to look good for yourself or you have a partner coming around, long boxers make you look your best.

The stretch waistband holds in your love handles or accentuates your strong stomach, while the pouch keeps you feeling supported.

Activity #7: Sleeping in a Hot Room
One of the reasons you might have trouble sleeping is if you get overheated and your sweat starts to collect in your boxers. Sweaty underwear feels terrible, and it's likely to keep you tossing and turning all night.

Long boxers are made in a wicking fabric that traps sweat away from your body. Also, the limited fabric means that damp material won't bunch up around your groin and midsection.

Shop Lan Banks For the Best in Long Boxers
Now that you've decided that long boxers are the right underwear style for you, it's important to recognize that not all underwear is created equal.

Lan Banks does boxer briefs right, with soft materials, seamless stitching, and moisture protection that will keep you cool all day.

We also only make two underwear styles, including our Organic Square Cut brief, which helps us focus on our promise of making the most comfortable underwear in the world.

Shop Lan Banks today for your next pair of quality long boxers!